Radio Hauraki presents the 7 Days Live Tour!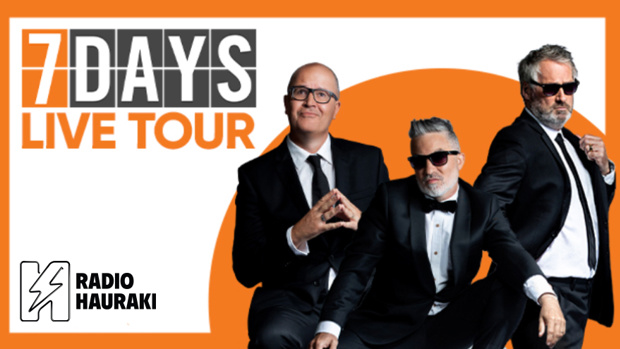 Due to current COVID restrictions, the decision has been made to postpone this year's 13-centre tour of 7 Days Live, with new performance dates confirmed for all centres in June 2022. Host Jeremy Corbett as well as team captains Dai Henwood and Paul Ego are looking forward to hitting the road next year once it's safe to do so, to bring some much needed laughter to audiences across Aotearoa. Until then, audiences can keep getting their 7 Days fix on Three and ThreeNow.
Ticket holders will be contacted by their venue's ticketing agent to transfer their tickets or for refunds if they are not able to attend the new dates.
NEW 7 DAYS LIVE TOUR DATES:
AUCKLAND:
Saturday 4 June, Bruce Mason Centre
Book at Ticketmaster
NEW PLYMOUTH:
Sunday 5 June, TSB Showplace
Book at Ticketek
PALMERSTON NORTH:
Monday 6 June, Regent Theatre
Book at Ticketek
INVERCARGILL:
Friday 10 June, Civic Theatre
Book at Ticketek
DUNEDIN:
Saturday 11 June, Regent Theatre
Book at Regent Theatre
CHRISTCHURCH:
Sunday 12 June, Christchurch Town Hall
Book at Ticketek
BLENHEIM:
Monday 13 June, ASB Theatre
Book at ASB Theatre
WELLINGTON:
Saturday 18 June, Michael Fowler Centre
Book at Ticketmaster
TAURANGA:
Sunday 19 June, Baypark Arena
Book at Ticketek
NAPIER:
Thursday 23 June, Napier Municipal Theatre
Book at Ticketek
GISBORNE:
Friday 24 June, War Memorial Theatre
Book at Ticketek
HAMILTON:
Saturday 25 June, Claudelands Arena
Book at Ticketek
WHANGĀREI:
Thursday 30 June, McKay Stadium
Book at Ticketek