AC/DC's 'Back In Black' album gets certified 25-times platinum
Publish Date

Wednesday, 11 December 2019, 10:09AM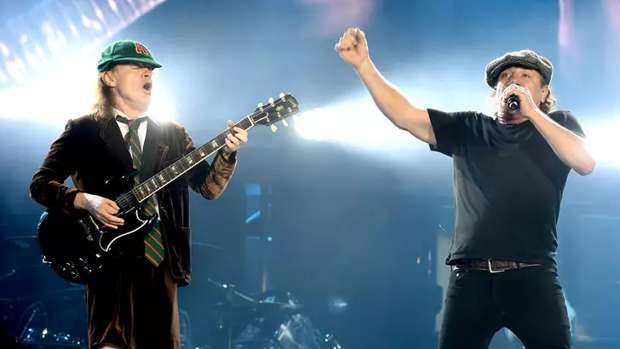 AC/DC's watershed seventh studio album 'Back in Black' has captured another distinction after being certified 25-times platinum in the U.S. by the RIAA.
The band's first album with frontman Brian Johnson was an immediate hit when it was released in July of 1980. Thanks to classics like "Hells Bells," Shoot to Thrill," "You Shook Me All Night Long," "Have a Drink on Me," "Rock and Roll Ain't Noise Pollution" and the iconic title track, Back in Black was certified platinum for the first time just three months after its release.
The record was certified 22-times platinum in December 2007.
RIAA lists 'Back in Black' as the fourth biggest-selling album of all time.
News of the album's latest signpost comes as rumors of AC/DC's impending return have ramped up again, with two notable heavy metal frontmen claiming that they know for a fact that the band is both planning a new album (what would be its first since 2014's Rock or Bust) and a new tour.
There have been a number of false starts with AC/DC since its 'Rock or Bust' tour with fill-in singer Axl Rose wrapped in 2016, culminating with longtime bassist Cliff Williams' retirement.
Co-founding guitarist Malcolm Young's passed away the following year, leading some to think the band was finished.
But the band was spotted at its favorite Vancouver recording studio in the summer of 2018, with Johnson, Williams and on-again-off-again drummer Phil Rudd joining co-founding guitarist Angus Young. The group was believed to be crafting a final album featuring contributions by Malcolm.
Months went by with no announcement. Then Johnson reportedly confirmed he was back in the band. Fans got some hope this summer when the band's social media accounts fired up to celebrate the 40th anniversary of Highway to Hell. By September they had quieted down again.
Several people in the know say the new album, featuring the band's 'Back in Black' lineup with Angus and Malcolm's nephew Stevie in the band, is coming.
While the band has remained silent, we know that when AC/DC gets going, not much could be louder.

This article was first published on iheart.com and is republished here with permission