Arctic Monkeys on what to expect when they play Auckland
Publish Date

Wednesday, 7 November 2018, 5:39PM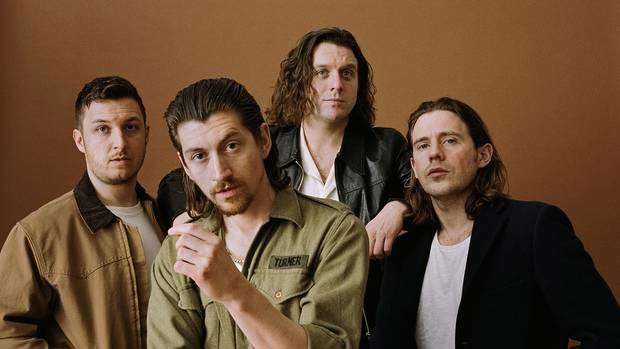 By: Karl Puschmann
It's a couple of hours before show time and Nick O'Malley, bassist for Arctic Monkeys, is feeling chatty. The group may be in Washington DC, the heart of American politics, but ruminations of a political nature couldn't be further from his mind. Instead, like most of us, he's thinking about his upcoming holidays.
"The tour's going great. We've been going since May and we've got a few more gigs left and then we're going to take a little time out for Christmas and New Year," he says. "Then we're going to come and see you guys. It's been a while."
He's not wrong. Sheffield's finest were last here in 2014 in support of their at-the-time new album, AM. The indie dance stomp of the record made it a critical and commercial success and buzz for the show was high. This time, however, the band have some convincing to do...
Their latest album Tranquility Base Hotel & Casino saw the band swap their frenzied guitar swagger for a louche set of piano-driven, Vegas-style cocktail bar numbers. It was a curious, confusing move for the group and one that's proven divisive among fans.
"Each time you make a record it is important to not repeat yourself," O'Malley says. "Even though AM was really successful, especially in America, it's important for us not to fall back on that again and think, 'oh, if we just do that again people will love it again'." That would end up becoming your own downfall and you'd end up backing yourself into a corner of, 'this is what you have to sound like and this is the way it needs to be from now on'."

"We'd just lose interest if that was the case. A chance for us to find a new version of ourselves or find something that we've grown into in each new record makes it feel refreshing and exciting for us and keeps us interested."
While the new sound may have puzzled those outside the band, inside it was a very different scene.
"I immediately really liked them," recalls O'Malley, thinking back to the first time vocalist and chief songwriter Alex Turner played the band the songs he'd been working on.
"It didn't really strike me as that crazy as maybe it did to people who thought it was a massive departure from what we've done. I didn't see it as being that different. I just really liked the songs," he says. "I thought they were - and I still do - I thought they were some of the best songs he's ever written. I was instantly really excited."

The biggest appeal, he says, is that they sounded like a record, as opposed to a collection of tracks. "I don't want to use the word vibe, but I liked the whole character of how everything sounded together. It all made sense and instantly felt like it was its own thing."

Despite the gulf in sound and style, O'Malley says the new songs are settling into their set nicely.
"They fit in really well," he says. "In America, we don't play much from the first couple of records because we play pretty big venues now. If you played a big arena and just came out and played all fast songs it would just feel like you went out there and did it and it was all over. Which is fine for a sweaty club gig, which we all would enjoy, but these kinds of gigs it's great to have different aspects and different paces of songs. The new ones make more sense in this big setting."
If you're worried about not hearing much from the band's explosive debut, Whatever People Say I Am, That's What I'm Not, after reading that, well, don't fret.
"We always throw a few old ones in there. Because the first record had such a big impact it's hard for us to escape not doing a few songs from that," he laughs when quizzed on if we'll hear those early, essential, hits like I Bet You Look Good on the Dancefloor and Fake Tales of San Francisco.
"When we play the old ones now it almost feels like a break. We just thrash it out and don't even have to think about it," he says. "The new stuff is a bit more complex and there's a lot more going on so it feels like we have to put more effort into playing them and it's more of a performance. The new record's got more intricate parts on it and more instrumentation."
He pauses and says, "It's opened up more possibilities for the next one... whatever that may be."
It's a statement that begs the question; is a new record something they've started thinking about?
"No," he answers. "We've never been a band that plans that far ahead. We like to do what we're doing and then at the end see how everyone's feeling rather than being, 'right, we need to do another record', or 'we need to do this massive tour next year'. We try to do a little bit and then see how we feel and take it from there."
So, next up for the band are those holidays he's been thinking about.
"It'll be back into normal life for a bit," he says, before adding, "England's nice and everything but it's nice to know that there's a way out. We've always had a really great time when we've come down to New Zealand. We're all looking forward to it."

This article was first published on nzherald.co.nz and is republished here with permission.