Beck details Pharrell's "distinct energy" on new album 'Hyperspace'
Publish Date

Saturday, 23 November 2019, 7:30AM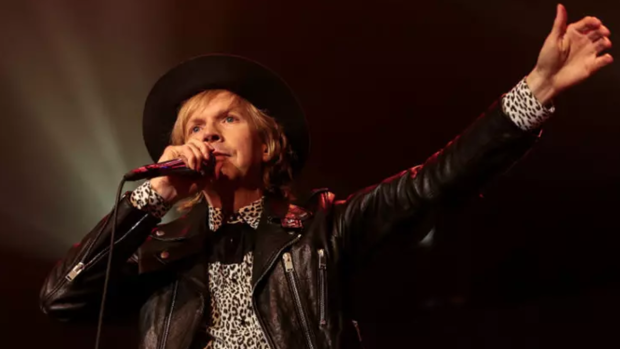 Beck fulfilled a long-running item on his to-do list with his new album, Hyperspace. For years, the singer had wanted to work with the genre-bending Pharrell and it just so happened that the mission was accomplished on the rock vet's just-released LP. In fact, the entire project was co-produced by the two.
"Pharrell brought such a distinct energy to the project and just when he works with you, when he's in the room, a sense of possibility happens," Beck, 49, told iHeartRadio of the effort, which marks his 14th studio album. "This sort of positivity that is infectious. It's something that generates good things and he's a conduit for something that nobody else does or knows how to do really. I felt very lucky to be working with him and it was something that I had thought about and aspired to [do] for many years. I hope it's the beginning of a longer collaboration."
While Beck insisted that his previous remarks about ending up with music similar to "Drop It Like It's Hot" was just a joke, he went on to explain that Pharrell's formula boils down to what's happening at that present moment with the artist — and then he simply meets them halfway.
Following the conclusion of his tour in support of 2017's Grammy award-winning Colors, the singer admitted he had plenty of inspiration to jumpstart its follow-up. "I just went right in and within a couple of weeks to two months, there was an album emerging," he said, adding that "Everlasting Nothing" was the first track that he and Skateboard P cut for the session.
As for the project's overall messaging, Beck explained that Hyperspace hones in on a wide panorama of different lives and people. "I was thinking about the way that we all make decisions and choices in our lives. How are we going to interact with the world? It usually has to do with our job or where we live [or] who our friends are," he explained. "In this time, there's so many ways that we're different or divided, but there are such core ways in which we are just merely flawed and human and we share that, no matter what side of anything that we're on."
Part of that outlook might have been prompted by the dissolution of his own marriage of 15 years, but the album does more than dissect the motives of others. It allows listeners to join Beck on his own ride as they hear layers of heartbreak atop Pharrell's glossy production. It's almost impossible not to think that the ache and emotional depths have changed his own perspective on life. Almost two decades of marriage, which produced two children, is meant to make an impact. However, as he explained, we don't need him to color in the entire picture for us, especially if his output is top-notch.
"Each song is a portrait of different modes of life. There are songs that were left off the record that kind of fill out the picture more. Ultimately, I think the music has to be senior to the concept," he said.
This article was first published on iheart.com and is republished here with permission