Billie Joe Armstrong worried "Good Riddance" could ruin Green Day
Publish Date

Friday, 23 April 2021, 11:31AM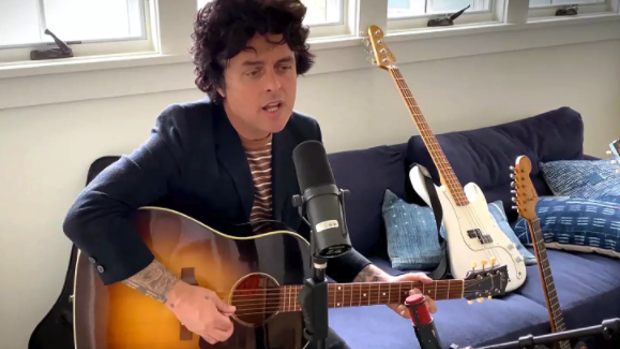 Green Day famously sat on "Good Riddance" for several years before finally feeling like they had built up enough goodwill with their fanbase to release the acoustic guitar-driven ballad and survive any "sellout" accusations.
After being cut from 1994's Dookie, Billie Joe Armstrong was determined to give the song another shot during 1997's Nimrod sessions. With some help from producer Rob Cavallo, who arranged the string accompaniment, "Good Riddance" finally felt like it was as good as it was going to get, and it was ready to get released.
But when it came time to perform the song live for the first time, Armstrong tells Audible's Words + Music on his Welcome to My Panic special that he was far less confident that it would go over well.
"I remember the first time I ever sang it live. I thought people were gonna throw bottles at me because the single was gonna come out," Armstrong recalls. "And so right at the end of our set, I remember going backstage. I was like, 'Okay, I'm gonna do it.' And I grabbed a beer and I chugged it. And then I went out with my guitar and I played it, and it got an amazing response."
"Good Riddance" was an instant hit and quickly took on a life of its own. It was used in a montage in the series finale of Seinfeld and became a high school graduation staple and a hit at proms.
"When it was on Seinfeld, the season finale, and it became sort of this prom — it was like proms, graduations and funerals and weddings or something like that," the frontman continued. "I never anticipated that song going from like, playing, you know, dirty punk clubs to suddenly being quotes for someone's yearbook."

Get an exclusive clip of Armstrong talking about "Good Riddance" HERE.


This article was first published on iheart.com and is republished here with permission