Frances Bean Cobain's 'Kurt Was Here' collection hits stores
Publish Date

Tuesday, 26 November 2019, 1:18PM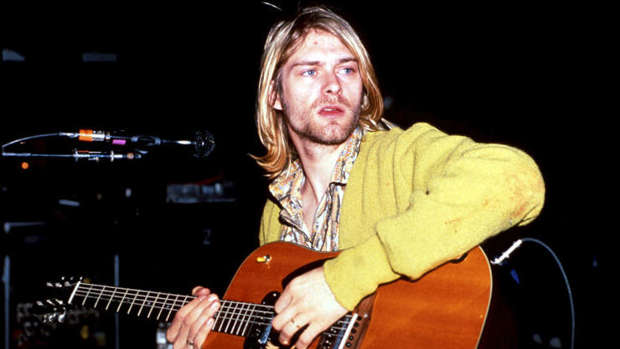 Kurt Cobain's official collection, "Kurt Was Here," is even more accessible this holiday season.
As per Live Nation, six short and long sleeve shirts from the capsule campaign are now available at all Urban Outfitters across the country, dependent on inventory, and feature original visual artwork from the late, great Nirvana frontman. Sizes for the items range from XS to XL and start at $39 apiece. In addition to the shirts, the retailer is also offering a coffee table book featuring Cobain's artwork via their official website.
In case you hadn't heard, "Kurt Was Here" was curated by his daughter, Frances Bean Cobain, 27, and originally sold at Barneys, U.K. department store Selfridges, as well as his official website. Each item was "designed under the creative direction" of Bean, who is currently helping manager her father's business empire.
In somewhat related news, it was reported in October that Cobain's iconic green cardigan from Nirvana's MTV Unplugged performance went up for auction (once again) and sold for a whopping $334,000, double the price of the final bid of $137,000 from just four years ago. The item, which has never been washed, was projected to sell between $200-300,000. "The Manhattan brand sweater is a blend of acrylic, mohair and Lycra with five-button closure (one button absent) with two exterior pockets, a burn hole and discoloration near left pocket and discoloration on right pocket," read the description on Julien's Auctions.

This article was first published on iheart.com and is republished here with permission