Inside the crazy world of Royal Blood: "My mum was dancing with Brad Pitt"
Publish Date

Thursday, 26 April 2018, 4:09PM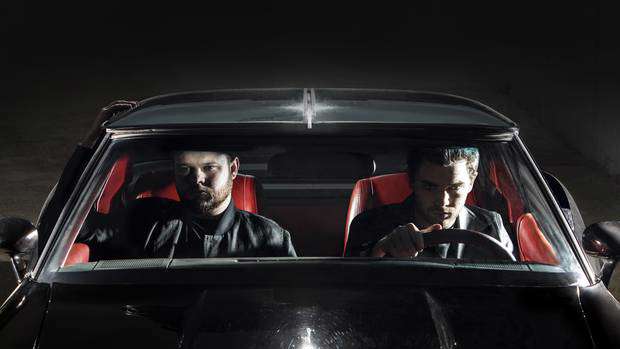 By: Chris Schulz

Whatever happened to you in 2017, it's unlikely your end-of-year wrap-up sounds anything like Mike Kerr's.
"I don't know where to start really," admits the Royal Blood frontman from Brighton, where's he's nursing a hellish hangover suffered at a "mad" concert after party with mates.
"There were some huge moments ... mad stuff".
He's not kidding. Last year was split squarely in two for Kerr and drummer Ben Thatcher, the Royal Blood duo who spent the first six months locked away finishing their second album, How Did We Get So Dark?, and the second celebrating its roaring success.
Since June, they've spent their time cramming in as many festival performances, stadium shows and solo tours as possible on a tour that lands in New Zealand next week. Along the way, they've found time for plenty of rock star excess.
Here's Kerr's first highlight: "We got to play the main stage at Glastonbury on the same day as our album was No. 1 in England, while my mum was dancing side of stage with Brad Pitt." It's true: there are photos to prove it.
But there's no time to dwell, because Kerr's ploughing forward with his second highlight: "We toured around America with Queens of the Stone Age for two months. It was absolute carnage, one of the best experiences of my life. We were celebrating before we even begun. I remember starting the tour with a hangover."
It doesn't stop there. "We've been to Australia, did our own headline tour of England, then I dressed up as a panda one night on stage and hit a gong with a flaming torch ... we did mushrooms at a festival in Canada, stole a golf cart and drove it around a forest."
He pauses, then deadpans: "It was a good year."
It wasn't all fun and games for the pair. Kerr admits he and Thatcher were feeling the pressure to follow up their 2014 debut, an album made by just two people that sounded bigger than a rock record had in a long time. "You put everything you've ever known into your first album," explains Kerr.
Did they suffer second album syndrome? "It's obvious that there's that expectation," says Kerr. "But we put that pressure on ourselves anyway. We want it to be good for ourselves, [for] our own sense of achievement."
Things didn't really come together until they recorded first single Lights Out. Ironically, once they'd nailed that song, the lights came on. "It's like we found the blueprint for the whole record, so now we've got to do this nine more times."
They were up for the challenge. Royal Blood delivered a follow-up album that contained as many rock 'n' roll good times as their first one. Rave reviews followed, as did tour demands, as well as all those shenanigans.
And as for the big question - had they run out of riffs? - the album answered that, and then some. Listen to songs Hook, Line and Sinker or She's Creeping and you'll know that Kerr and his bass guitar seem to have an endless supply of them.
It was an album that saw Royal Blood booked for some very big tours. They perform in Auckland next week following support slots for Queens of the Stone Age and the Foo Fighters. "At the time we did the Foos tour we'd never played shows that big. We were doing stadiums every night," says Kerr.
Which raises the question, which band drinks the most?
"Queens drink more," says Kerr. "Dave [Grohl] drinks a lot but all of Queens do it together. To be the last man standing you're always outnumbered with Queens, you've got to out-drink five people, instead of Dave Grohl."
But there's a more serious topic at hand than beers on the board. At a time when hip-hop, dance and pop dominates festival line-ups, is rock 'n' roll dead?
Kerr doesn't like that question. "People that say that I just want to tell them to shut the f*** up. I don't know what that means. I think those people are just so obsessed with diagnosing an entire genre. Come see our show and tell me it's dead. Go and see Queens of the Stone Age. Shut up. Go and see The Hives. It's not dead. It's very much alive."
It's clearly time for a topic change. Are he and Thatcher as close as they seem to be? Don't they fight? "If we weren't friends, this would be f***ing impossible to do. We do everything together. We literally sleep about a foot from each other every day, do interviews together, play shows together, we couldn't be any closer."
All those shows, all that drinking, all the stories, all with his best friend by his side. Kerr sounds like a man who's got it all. Yet he says he has the same doubts as everyone else, has the same thought cross his mind every night just before he walks out on stage.
"I have the thought train of, 'How the f*** am I going to do this?' I've had a lifetime of winging it every night. It always feels like, 'I don't know how this is going to work.' I just walk out, pick up the bass and see what happens.
There's time for one last quip: "Just keep pointing and winking, that's what I do."
LOWDOWN
Who: Mike Kerr from Royal Blood
Where and when: Logan Campbell Centre, May 1
Also: Album 'How Did We Get So Dark?' out now

This article was first published on nzherald.co.nz and is republished here with permission.