Jason Newsted says he gave himself chronic whiplash from headbanging
Publish Date

Thursday, 17 October 2019, 11:59AM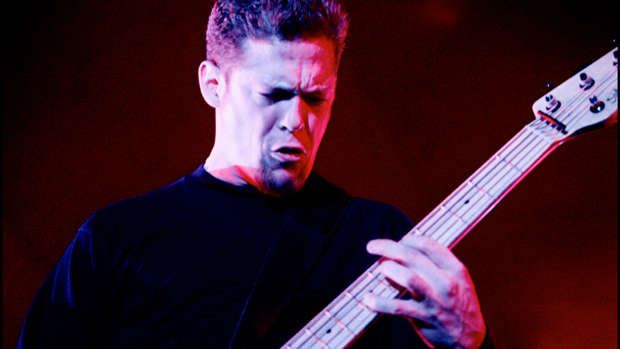 Jason Newsted has revealed that he is one of many veteran heavy metal musicians to suffer from neck problems after to a career of viciously whipping his head to and fro to the beat.
Before joining Metallica, Newsted earned himself a reputation as a ferocious live performer in the band Flotsam & Jetsam. During his 15 years with Metallica, Newsted never slowed down and brought it each and every night.
But all those shows took a toll, he confirmed in a recent interview with Real Radio 94.3 WZZR.
"It's been a lot of time, 25-ish years of headbanging," he said. "I gave myself whiplash. And so, through the years, doctors of all different languages and countries, they told me, 'No more that, no more spinning head.'"
The bassist says he was first advised to stop headbanging about 10 years ago, before doing an album with his eponymous metal band.
Newsted says he's had nerve issues, "all tangles and mangles," due to the damage he's done to his spinal cord. He can't completely quell the urge to rock, but he says the issues have provided as good an excuse as any to pursue less sonically intense music as a means of expression.
Lately, Newsted has been performing more acoustic guitar-based music. While it doesn't have the raw power of Metallica, he says it's no less meaningful.
"The juice is still the same," he added. "The energy is still the same. The amps are a little smaller."
Megadeth's Dave Mustaine famously put off neck surgery to play the 2011 Big 4 show at Yankee stadium. Slayer's Tom Araya stopped headbanging years ago due to his own neck problems.

This article was first published on iheart.com and is republished here with permission