Jason Newsted used to sweat out 3 Pounds of water weight per Metallica show
Publish Date

Monday, 6 April 2020, 8:30PM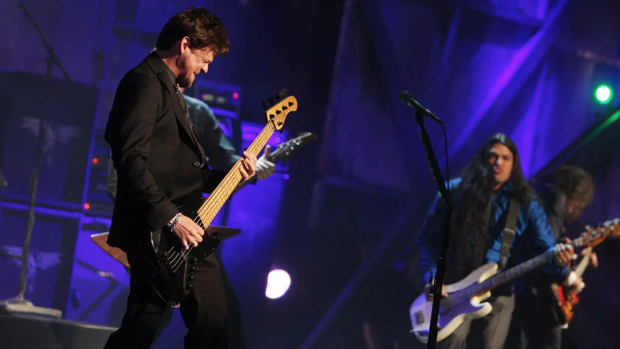 If you're looking to lose a few pounds, you could do worse than a gig in Metallica.
Jason Newsted says he used to lose upwards of three pounds in water weight per concert with the Rock and Roll Hall of Fame metal band. He knows because he weighed himself before and after gigs.
"I stayed the exact same weight for 27 years," he told Palm Beach Florida Weekly. "We always knew that was going to happen. You can weight yourself before the show, and it was at least a three-pound difference, sometimes more. We'd rate the power and energy of the show by how many T-shirts we went through. You could wring 'em out and fill up a bottle. Four was a pretty good show. Everybody had their way of keeping fit. I took my bicycle on tour with me for years."
Side effects include: chronic whiplash, however.
The live physicality took a toll on the band, however. Newsted and frontman Jason Hetfield, like many of their thrash metal contemporaries, have both had spinal issues as a result of damage to their necks from all that headbanging.
Nowadays, Newsted is keeping busy doing visual art and playing guitar in his Chophouse Band, which he says is entirely less stressful on his neck and back injuries.
Metallica is live-streaming an archival concert every Monday for the foreseeable future during the COVID-19 pandemic to raise money for several charities.

This article was first published on iheart.com and is republished here with permission