Metallica hopeful fans will appreciate drive-in concert "experiment"
Publish Date

Thursday, 20 August 2020, 1:55PM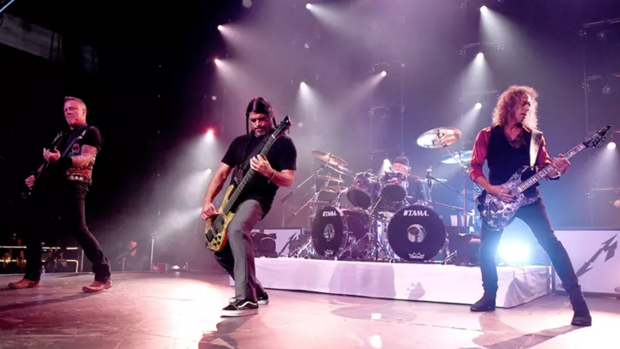 The four members of Metallica and much of their crew reconvened in person earlier this month for the first time since coronavirus pandemic restrictions undercut the band's 2020 touring plans.
With the band's S&M2 live album due out at the end of August and playing live concerts out of the question until further notice, Metallica wanted desperately to rock with its fans again, but without putting anyone at undue risk.
The band's clever compromise was to release a brand new live concert film to drive-in movie theaters nationwide on August 29, a day after S&M2 arrives. Fans can enjoy the show from the comfort and relative-COVID safety of their own automobiles.
S&M2 documents Metallica's latest collaboration with the San Francisco Symphony and also the last live concert the band performed.
But getting together again after all that time didn't come without complications.
"We had to take COVID tests every other day before it, and everyone in the entire building had to wear a mask," guitarist Kirk Hammett told Kerrang! of the sessions. "It's just something you have to do, but considering the alternative [doing nothing], I'd still rather do this than any other way. It felt really good to play again, to interact with each other and create energy together."
Drummer Lars Ulrich revealed this past spring that the band members were experimenting with new song ideas while in their respective lockdowns. While that work was intriguing, nothing compares to the real thing.
"It's great to be playing again, great to be back together with the fellas," he added. "There weren't as many people as we're used to, but the joy of playing together and getting the chance to play at any level kind of supersedes any of that. So now we're just riding high on the fact that it's still possible to connect with each other at the moment. We'll get it into the drive-ins, see what happens, then continue to experiment and reach as many fans as possible in the best ways we can. And it was good to get out of the house!"
The band has not disclosed the Bay Area location where the new concert was recorded.
Even if fans aren't interested in watching a metal show at the drive-in, Ulrich says he hopes people will appreciate that Metallica is trying to find new ways to reach out through music.

This article was first published on iheart.com and is republished here with permission