Mike Shinoda teases unreleased Linkin Park song with Chester Bennington
Publish Date

Wednesday, 24 June 2020, 3:36PM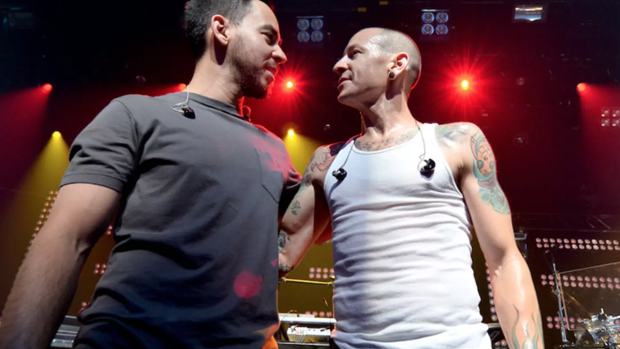 Linkin Park fans might not have heard every song the band recorded with Chester Bennington. As the third anniversary of the singer's death creeps closer, Mike Shinoda revealed there's unreleased material from their One More Light sessions that features the late frontman's vocals. He teased a song called "Friendly Fire" during a recent Twitch livestream.
"There was a song, a One More Light song" Shinoda divulged while answering a fan question. "We mixed more than the finished album and we mixed a couple other songs just to see if one of them would make the cut or whatever, [or] we would use it for a B-side, and it was 'Friendly Fire.'"
After explaining that the track was co-written by One More Light collaborator Jon Green, Shinoda implied that fans might hear it one day.
"I still love that song," he confessed before asking himself if they ever released the track. "Is that out somewhere? Did we put 'Friendly Fire' out at some point? We didn't, did we?"
After a fan suggested he drop it during his stream, Shinoda laughed. "Yeah, okay, we're going to put out a brand new f**king Linkin Park song with Chester's voice on it out. I don't think so," he said. "You literally are going to have to wait years to hear that song."
See Shinoda discuss "Friendly Fire" below.
Though we won't be hearing "Friendly Fire" anytime soon, fans of Chester have been able to hear his voice on remastered songs he sang with his pre-Linkin Park band, Grey Daze. The band is gearing up to release a tribute album, Amends, on Friday (June 26).

This article was first published on iheart.com and is republished here with permission