"One week to learn 50 songs'" - Gilby Clarke recalls intro to Guns N' Roses
Publish Date

Tuesday, 11 May 2021, 9:04AM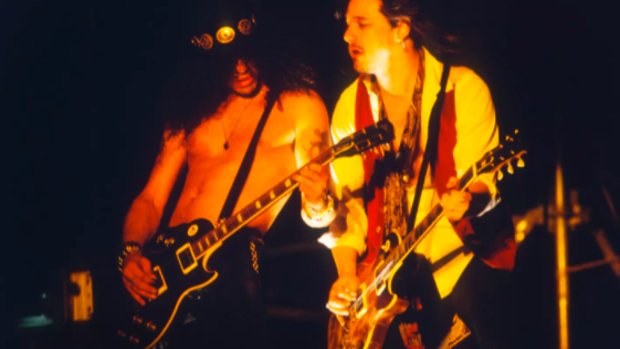 As far as rock gigs go, it doesn't get much bigger than Guns N' Roses in the early-'90s.
Gilby Clarke joined GNR in 1992 following the departure of co-founder Izzy Stradlin. At the time, there might have been no higher-pressure job in live music. GNR was at the top of its proverbial game — as beloved as it was controversial; the band's records were going multiple times platinum; it was filling stadiums all over the world; and Clarke had mere days to get up to speed of the music before the first show.
He looked back on that time in a recent conversation with Hyperlocrian.
"It happened so fast," Clarke recalled. "From the day I went in to jam with them until when I went on stage was only two weeks. I didn't get the gig until a week in. I had one week to learn 50 songs; I had to learn the whole catalog, 'cause they don't have a setlist. So what I was thinking about was remembering the songs. I wasn't thinking about the rock star stuff. I wasn't thinking about, 'Oh my God. I've gotta stand on stage. Oh my God. This is Guns N' Roses,' and all that comes with it. All I was thinking about was remembering 50 songs."
That catalog included all four of GNR's albums at the time, including no shortage of iconic riffs, ballads and opuses, not to mention some of the band's favorite cover tunes. Any of those tunes were liable to find their way into the set and Clarke knew that there would be nowhere to hide onstage, or in the mix.
"Every day, I sat there with a cassette player, with the headphones on, learning Izzy [Stradlin]'s parts. I didn't wanna disappoint the guys," he continued. "They had already done a couple of months of touring. I didn't wanna get on stage and be the one that was hitting bad notes. Because we were pretty loud; you could hear my guitar as well as you could hear Slash's guitar. I didn't wanna be the guy making mistakes. So it was really important to me to learn all those songs. That's all I cared about, was being able to play."
On top of all anxiety, Clarke didn't have much in the way of prior relationships with his new bandmates. With the exception of drummer Matt Sorum, Clarke didn't start getting to know everyone until the tour got on the road.
Fortunately, the band did little to add to the immense pressure he felt.
"They gave me so much freedom," Clarke concluded. "They never told me what to play; they never told me what to wear; they never told me what to say. They accepted you for who you were. And of course, we all make mistakes."
Clarke's latest solo album, The Gospel Truth, arrived last month.