Review: A Perfect Circle provide the perfect warm-up for a new Tool album
Publish Date

Friday, 20 April 2018, 2:37PM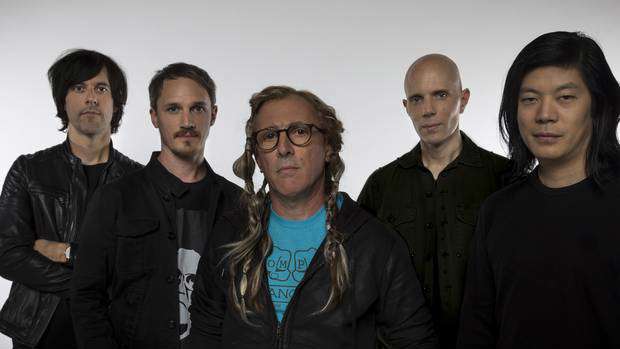 The first album from A Perfect Circle in 14 years doesn't start with an furiously angled riff, a giant slab of art-metal grunt or one of those blood-curdling howls from Maynard James Keenan.
Instead, there are stuttering jazz drums, a melancholy piano line, swelling strings and a mournful Keenan moaning obtusely about swings.
If you're a fan of A Perfect Circle, Billy Howerdel's band that gave those who wanted their Keenan melodramas to play out with a little less apocalyptic gloom than they did in Tool, you've been waiting a long time for this.

It's an unexpected but welcoming start for the band's third studio album, one that sets a moody, but playful, tone that permeates the album.
Don't worry: Eat the Elephant quickly moves into more familiar territory, with Keenan's powerhouse howl used expansively over Howerdel's sweeping guitar theatrics on tracks like Disillusioned and The Doomed. Later on, Hourglass provides the kind of blitzkreig stomp Rammstein would be proud of.
They're masters of the slow-build, and many songs hear head past the five-minute mark. But Eat the Elephant delivers some beautiful pay offs. "Feast and famine and war" declares Keenan on The Doomed, screaming the excellent outro, then holler-baiting religion on TalkTalk like he's back on Aenima.
That's great news for Tool fans, a sign Keenan seems ready to move away from the experimental bollocks of side-projects like Puscifer and return to his main gigs. While we wait for the next Tool album, this is a perfect warm-up.

This article was first published on nzherald.co.nz and is republished here with permission.