Review: Royal Blood should have burned their Auckland venue to the ground
Publish Date

Wednesday, 2 May 2018, 4:29PM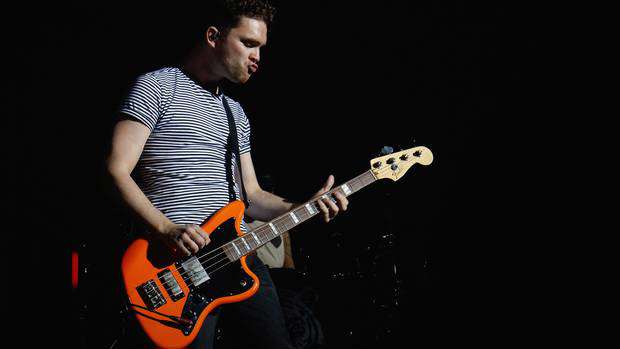 By: Chris Schulz

Ben Thatcher stands up, throws his drumsticks in the air, biffs his blue beer cup against a wall, then slow walks to the centre of the stage.
Meanwhile, his band mate Mike Kerr is behind him, wringing one last feedback blitz out of a bass guitar that, after delivering an hour-and-a-half of non-stop riffs, has surely had enough.
The show appears to be over, but it's not: within seconds Thatcher will be back at his drum kit with Kerr out in front again, hammering out one last verse of Out of the Black, the Brighton duo's first single and the bruising finale to last night's show.
It was a fitting end to Royal Blood's second New Zealand appearance, a rare Auckland rock event on a winter calendar desperately short of them, and one from a band far more used to playing in stadiums than in a giant Greenlane chilly bin.
That meant a chilly start for the Logan Campbell Centre crowd who struggled to warm up to opening songs Lights Out and Come on Over as they got blasted by overbearing air con. Kerr and Thatcher had their own battles, battling a PA system that desperately needed to be turned up a few notches.
There's nothing complicated about what Royal Blood: Kerr sings classic rock cliches about women - like, "I only lie when I love you," and, "You can be so cruel," - while delivering blues-drenched riff blitzkriegs via his downtuned bass guitar. Meanwhile, Thatcher ticks away like a metronome in the background.
It's simple stuff, done really, really well. Last night's show kicked into top gear after half an hour with Little Monster. As the moshpit heated up, beer cups went into the sky, air guitars got tuned up and a shoe got waved around by one barefoot punter rocking in the front row.
Things only got better from there, with Hook, Line and Sinker, the highlight of last year's second album How Did We Get So Dark?, delivered like the chugging juggernaut it is, while Thatcher finally showed fans what that gong behind him was for, smashing into it during the crescendo of Blood Hands.
Their set is clearly well honed: Royal Blood have come off the back of stadium tours with Queens of the Stone Age and Foo Fighters, and their banter and stage theatrics - "Just keep pointing and winking" is how Kerr described his job to the Herald - seems better suited to a much bigger crowd that last night's 2000 or so.
But if you were looking for a defining moment from last night's show, it was this: Kerr playing downtuned riffs, getting the crowd to cheer as loud as possible after every one, while Thatcher sat next to his drum kit, drinking out of that blue cup of his, occasionally smashing that gong as loud as he could.
It was a stadium-sized statement in a venue that could barely contain them. Next time, let's hope Royal Blood turn the volume up and burn the Logan Campbell Centre to the ground.
Who: Royal Blood
Where: Logan Campbell Centre, Auckland
When: Tuesday, May 1
This article was first published on nzherald.co.nz and is republished here with permission.