Smashing Pumpkins share two new songs "Cyr" and "The Colour Of Love"
Publish Date

Saturday, 29 August 2020, 3:30PM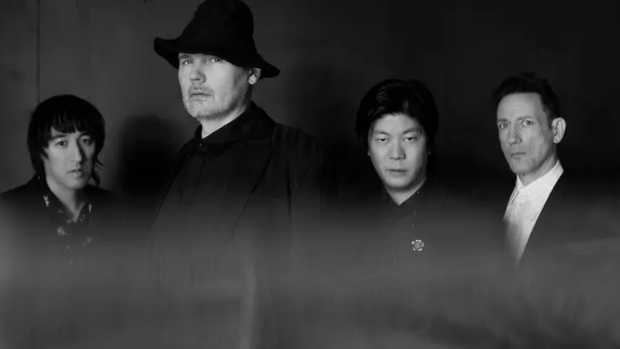 So THAT'S what the Smashing Pumpkins were teasing (or at least part of it). A couple weeks ago, the band started five countdown clocks, with the first set to expire on August 28. Well, the day has arrived, and along with it came two new songs: "Cyr" and "The Colour Of Love."
"Cyr is dystopic folly," frontman Billy Corgan explained in a statement, "one soul against the world sort of stuff, set against a backdrop of shifting loyalties and sped up time. To me it stands as both hopeful and dismissive of what is and isn't possible with faith."
They also shared a video for "Cyr," directed by Linda Strawberry remotely in Los Angeles and Chicago during quarantine. "This is a goth fever dream of pent up emotion – an artistic visual release attempting to create a momentary escape from the emotional black cloud hanging over all of us this year." Strawberry said in a statement. "A dark seduction filmed in quarantine at a social distance."
Listen to "Cyr" and "The Colour Of Love" below.
So what are the other four clocks counting down? Along with the new music, Smashing Pumpkins officially revealed they're working on a new album.
A few months ago, guitarist Jeff Schroeder divulged that Corgan was actually working on two new albums.
"Billy has already started working on another new album," he revealed. "We have actually 20 news songs coming out this year that we just finished kind of right before this [the coronavirus outbreak] all started. He's taking the time to get the ball rolling on even another new album."
Corgan also gave a few details about a double album back in January. "It's currently 21 songs," he said at the time. "I've been working on it for over a year. It's pretty different — in a good way, I think. Everybody that's heard it likes it a lot, so that's a good sign."
We'll have to see what else they have in store. The next clock is set to go off on September 18.

This article was first published on iheart.com and is republished here with permission