Tom DeLonge says the new Angels & Airwaves album is "probably' his best"
Publish Date

Saturday, 18 April 2020, 4:51PM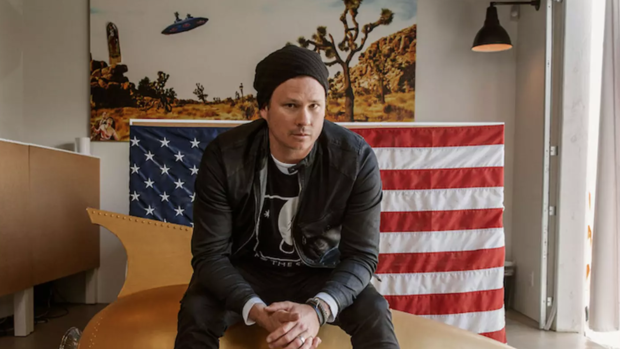 Since blink-182 took its initial hiatus in 2005, Tom DeLonge put his creative focus into Angels & Airwaves — a post-punk band that allowed him to share his more serious, "lovey dovey" side. Over a decade later, AVA is gearing up to release its sixth studio album, and its band leader thinks it might be his best work yet.
"This new record is probably my best, if not one of my top two or three records I've ever done," he said in a new interview with Kerrang!, "so my goal is to finally break the band into the mainstream after 13 years of it kind of doing its own thing. I've been putting out my own music for, like, 10 years, which has never been my absolute priority, and now it is a priority for me, and I expect big things. I'm much more authentic now to who I am than I've ever been. I will only do things that I know are worth doing and that I 1,000 per cent believe in. If you do something that is completely in your heart that you can see 1,000 per cent in your mind, that will have exponential effects on all physical matter around you and it will start falling in place. But it takes a while. It's almost like you have a ripple in an ocean – and the ripples don't stop, but they get diluted over time. They get softer and softer, but they're still there, and at some point it's going to hit something and bounce back. You just have to be able to wait until it bounces back to you. And that's kind of how the universe is."
"If I'd have done the first year of Angels & Airwaves and said after that year 'This isn't working, no-one gets it, I give up', I would never be where I am today," he continued. "You've got to give it time and you've got to be around and stick with your ideas for long enough to feel those ripples come back at you. And then you can ride those waves."
Although he's been pretty vague about when we can expect the new album, DeLonge told the outlet they're "doing the final tracking right now, have started mixing some of the songs and I think we'll be done within the next 60 days."
We may not have many details about the project, but AVA has released two songs off it so far — "Kiss and Tell," "Rebel Girl" — and most recently dropped "All That's Left Is Love" — a song inspired by the current state of the world.

This article was first published on iheart.com and is republished here with permission