Tom Morello says the guitar he used on "Tire Me" cost 40 Canadian Dollars
Publish Date

Wednesday, 21 April 2021, 1:31PM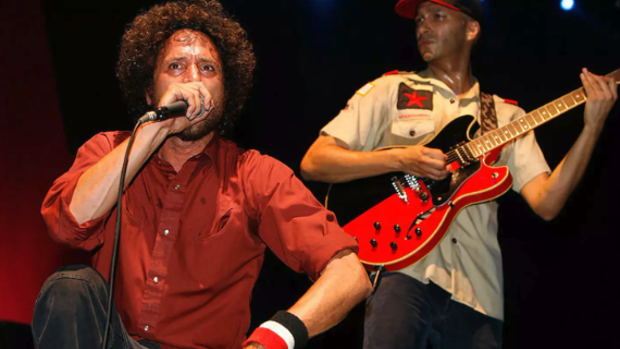 Rage Against The Machine's sophomore album Evil Empire turned 25 on April 16, and while the band celebrated the milestone with a special merch collection, Tom Morello's taking his own trip down memory lane. On Monday (April 19), the guitarist shared a photo on Instagram of the scrappy guitar/amp combo he used to record the album's sixth track, "Tire Me," which ended up winning the band a Grammy for "Best Metal Performance" in 1997.
"This guitar/amp combo was used to record 'Tire Me' on @rageagainstthemachine's Evil Empire album which came out 25 years ago last week," Morello explained in the post's caption. "The guitar, which I'm not even sure is made out of wood (plywood?) cost 40 Canadian dollars at a Toronto pawn shop and the amp is a 20 watt solid state practice amp I had in my apartment. The song won our first Grammy."
Crazy!
See Morello's post below.

The famed axe man has always been a great social media storyteller. After DMX passed away earlier this month, Morello paid tribute to the legendary rapper by recalling the hilarious way they first met. He also recently detailed the reason why he wrote "The Garden of Gethsemane" for his late friend and bandmate, Chris Cornell.
This article was first published on iheart.com and is republished here with permission