Travis Barker shares insomnia-fueled drum performance
Publish Date

Tuesday, 16 June 2020, 2:05PM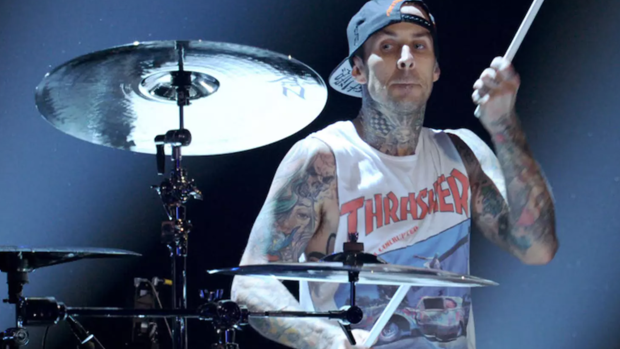 Travis Barker suffered from a bout of insomnia last night (June 14), so he did what anyone would do and recorded an epic drum performance to share on Instagram.
"5 AM can't sleep this is what happens," he captioned the clip, which shows Barker playing along to Powfu and beadadoobee's "Death Bed (Coffee For Your Head)" on a snare drum, donning a beanie and a timely shirt collaboration between himself and the brands Local Authority and Don't Trust Anyone that shows a pig dressed as a cop with a peace sign on its snout. All of the shirt's net profits will go to Black Lives Matter and NAACP.
See Barker's sleep-deprived performance below.
Like many others in the rock community, Barker has been vocal ever since George Floyd was killed by police officers on May 25. Aside from sharing posts on social media, the blink-182 drummer covered Rage Against The Machine's "Killing In The Name" with Machine Gun Kelly and set the song to footage from Black Lives Matter protests in Los Angeles.
He also recently topped Billboard's Hot Rock Songs Producers chart for the first time, thanks in part to his work on MGK's upcoming pop punk album, Tickets to My Downfall.

This article was first published on iheart.com and is republished here with permission