Watch a fan join The Killers on stage to play drums and he "kills" it...
Publish Date

Wednesday, 27 November 2019, 1:39PM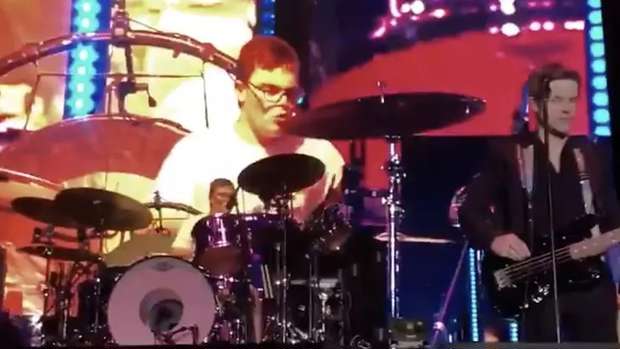 Over the weekend, The Killers descended on Fort Lauderdale, Florida to headline the Riptide Festival. Little did they know that they were in for a huge surprise during their set. Seventeen-year-old Jayson Verebay was standing in the front row holding up a sign asking the band if he could play with them. Frontman Brandon Flowers seemed intrigued by the request and let him take drummer Ronnie Vannucci Jr.'s spot behind the kit during their performance of "Reason Unknown" off their sophomore album Sam's Town.
Without missing a beat the local teen nailed the drum part, leaving Flowers grinning and the crowd erupting in cheers and chanting his name.
"As I was coming up there, my heart was pounding and I was actually shaking," Verebay told Rolling Stone after the set. "It was the most mind-boggling experience ever."
The young percussionist has been playing since he was five and prepped for weeks in hopes that the band would bring him onstage. "I know that the band's played this song before and I've just been practicing to live versions of it for the past month," he said, "but I didn't think it would actually happen for me. I thought I would forget everything, but I got it down."
To make the moment even more special, this was the first time the young fan has seen The Killers live. "This is something I've been dreaming about for a long time," he gushed. "It was the most incredible experience and I'm still speechless."
Watch footage documenting the memorable moment below.
The Killers recently announced their sixth studio album, 'Imploding The Mirage', which is slated for a Spring 2020 release.

This article was first published on iheart.com and is republished here with permission