Watch Rage Against The Machine create a one-man mosh pit at its first show
Publish Date

Saturday, 24 October 2020, 4:20PM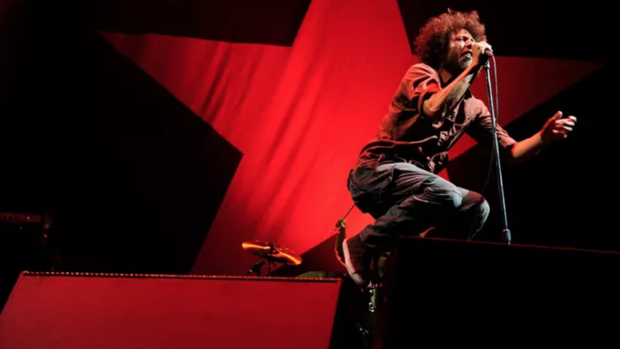 Rage Against the Machine's first public show was actually its second show ever, but that didn't mean the band was any less anxious about the gig.
And it would surprise no one to learn that, despite the jitters, one of the most formidable live bands of all-time delivered visceral performances from its inception.
RAtM performed publicly for the first time on October 23, 1991, at California State University in Northridge. The band rocked the campus event with a 52-minute set of work-in-progress future classics.
The band begins with a still-instrumental version of "Killing in the Name," as frontman Zach de la Rocha looks on from the side of the stage, perhaps contemplating what lyrics to put over the tune's delirious onslaught of riffs, perhaps wondering, 'Should I do what they tell me?'
Footage from the afternoon shows plenty of people nodding in approval, but one man in particular steals the show about 20 minutes into the set when he starts a mosh pit all by himself at the foot of the stage during the song, "Hit the Deck."
Check it out in the player above!
The man in the red shirt and black pants strolls across the frame, disappearing briefly and then reappearing in front of the stage, dancing furiously to the music.
After returning to the crowd for a break during "Township Rebellion," the man gets after it again for "Darkness of Greed" and "Clear the Lane." He takes a few more breaks, but returns again for the set closers "Know Your Enemy" and "Freedom," the latter of which causes de la Rocha to rock so hard he falls down.
While Rage Against the Machine's first public show surely earned them some fans, the band's first performance caused even more pandemonium.
In an excerpt from his new book, Tom Morello: Whatever It Takes, due out October 27, the guitarist reveals that the band's first-ever performance was a house party in Huntington Beach.
"Someone's parents were out of town and the first song we every played was 'Take the Power Back,'" he writes. "We were all amped up and playing at twice the speed and when the beat dropped, there was this huge swirling pit happening in the living room and people were destroying armoires and whatnot. We were off to the races."
This article was first published on iheart.com and is republished here with permission