Introducing the first ever ACC Open!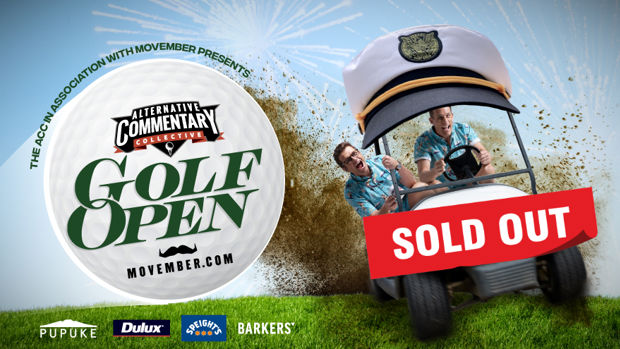 THE FIRST-EVER ACC OPEN IS SOLD OUT!!! 

More events will be coming in the new year across the country so please stay tuned.

Forget the Jesse Ryder Cup this is the Holy Grail of the golfing world The ACC Open!

In association with Movember NZ & The AGA (Alternative Golf Association), this is going to be one hell of a golf tournament build for speed, fun, good times and a bloody good cause. It is a 9-hole, three-person ambrose format golf tournament with a focus on unique twists to traditional golf, typical ACC style fun on the fairways and spending quality time on the course with some of your best mates this Movember – it would be rude not to!
This tournament aims to provide each golfer with a unique experience, there will be two cups on each green, the Mo-Pro Zone where golfers take on the pro to win it all, 18th hole chip off and the Par 3 Shootout amongst many other activities. There will be thousands of dollars worth of prizes on the line thanks to our generous partners DULUX, Barkers, Speight's, Pals, Radio Hauraki and many more.
Plus, the one and only Ben Hurley will be hosting the aftermatch at the 19th Hole with other members of The Alternative Commentary Collective.
Through the entry fee and on-course fundraisers, The ACC Open is proudly supporting the Movember Foundation. Raising funds and awareness to help them continue funding programs that are having an everlasting impact on the face of men's health.

Make sure you join us on course, December 10th 2021!
Check-in is open from 12:30pm, briefing time 1:30pm ready for a shotgun start at 2:00pm. 
Basic info:
Course: Pupuke Golf Club
Time: 12:30pm check-in open, 2:00pm tee-off
Format: 3-person Ambrose
Entry: 
-$150 for a team of 3.
-$1000 for a Gold level sponsorship. Receive two-team of 3 entries, sponsorship of hole of your choice, option to run your choice of activity or promotion on hole, recognition and promotion in pre and post-match.
Prizes:
1st Place: Winners of the inaugural ACC Open will be the first-ever recipients of the sought-after ACC Open blazer. A mark of championship pedigree, the winning of a major, and unofficially officially a part of the ACC. Not to mention taking your place in the AGA (Alternative Golf Association) Hall of Fame.
Prize Table: Thanks to our epic partners Radio Hauraki, Movember, Dulux, Barkers, Speights and Pals we have a full table to be won. Including competition placing, longest drive, closest to the pin, par 3 shootout, best dressed, best Mo, worst Mo and many more.

More events will be coming in the new year across the country so please stay tuned.