No Sleep 'til Test Champions!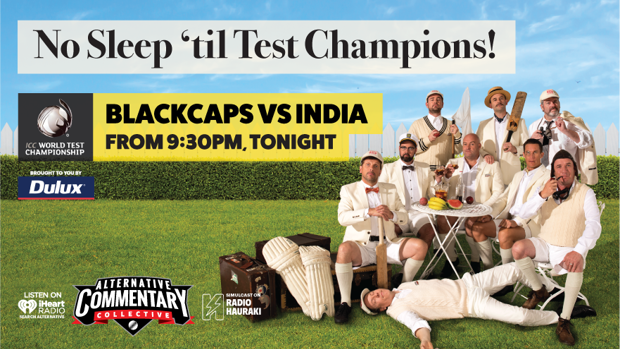 WE'RE BACK!!!

The ACC has secured audio rights for coverage of next month's historic World Test Championship final in England between New Zealand and India.

We will be delivering our commentary of the Test Championship through The ACC stream on the free iHeartRadio App and simulcast on Radio Hauraki.

Plus, we'll also be live on Facebook and YouTube so you can watch us call the test all night long.
The ACC team of Jason Hoyte, Paul Ford, Mike Minogue, Ben Hurley, Mike Lane, Matt Heath and Jeremy Wells will also deliver a daily podcast special each morning to add to the plethora of current ACC podcasts, covering the sporting spectrum from Rugby, Rugby League, Gaming, Ice Hockey, Cricket and everything in between.
"We were there in 2015 to cover Grant 'The Hairy Jav' Elliot's six, then Trent 'Lovely Trenty' Boult's final over at Lords in 2018 so The ACC is looking forward to covering 'Kane Steady The Ship' Williamson's mission for a world title – even though it will result in five sleepless nights," said ACC head Mike Lane.
ICC World Test Championship final
New Zealand v India: Friday 18 June – Wednesday 23 June (from 9:30pm each night)

Brought to you by Dulux. Backing great New Zealanders to become world Champions!